Eco-Mindfulness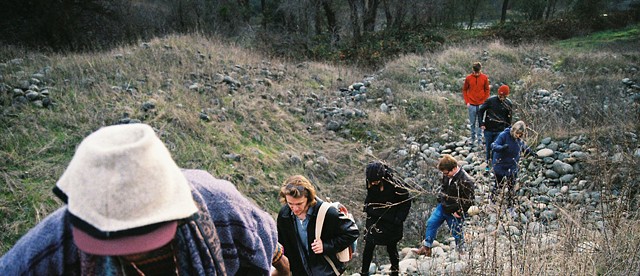 One-on-One & Group Therapy

Sessions are 1.5 hours at Redwood Regional Park

One-on-One Session
Sliding Scale
$50-$250/hr

Family or Friends Group Session
Sliding Scale
$150-$350 for group of 3
$220-$450 for 4-6
(Offered on specific dates/upon request)
By combining my wisdom from lived experiences of trauma, past professional work as an Art Therapist, Artist/Maker, Pre-School Art Teacher, and Actor/Performer, I am offering group and one on one medicine sessions that I call, "Eco-Mindfulness", for both Adults and Youth (13 and up).
Eco-Mindfulness falls under the umbrella of Eco-Therapy; combining nature walking, expressive creativity, and mindfulness meditation, three activities that absolutely give me life and have scientifically proven benefits. We will mindfully walk through the woods, engaging the senses and really come into communication with the body through awareness of the environment.
Stillness will be a strong foundation as we practice grounding, creative visualization, mindfulness and awareness.
Movement is a wonderful tool for releasing energy, and we will explore how different movement, shapes, and expression can cause energy to travel through the body.
All of this and more will be combined to invite you into a practice of mindfulness, healthy inner dialogue, and self-love.
My work is centered around healing QTPOC communities; so if you are looking for a safe, open-minded space, please know that your comfort is my top priority.
If Eco-Mindfulness sounds healing to you, please reach out to me at sunenglishjr@gmail.com and/or set up an appointment at this link: https://my.timetrade.com/book/1BZ9P. I would love to begin the process with you. My initial sessions will be free/heavily discounted depending on the client's funds.
We are on this journey together!